Nick Matthew is one of the most recognized and inspirational figures in the game of squash.
The three times World Open Champion is a also a Commonwealth Gold Medallist, and multiple World Team Championship winner.
But how much is he worth?
Nick Matthew is worth around $5 million. At least half of this has come through tournament wins, and the other half is made up of racket sponsorships, book deals, motivational speaking, and other endorsements.
Lets take a look at the various strands of income that have made up this figures, and how Nick Matthew has made money in a sport that has only been lucrative in fairly recent times.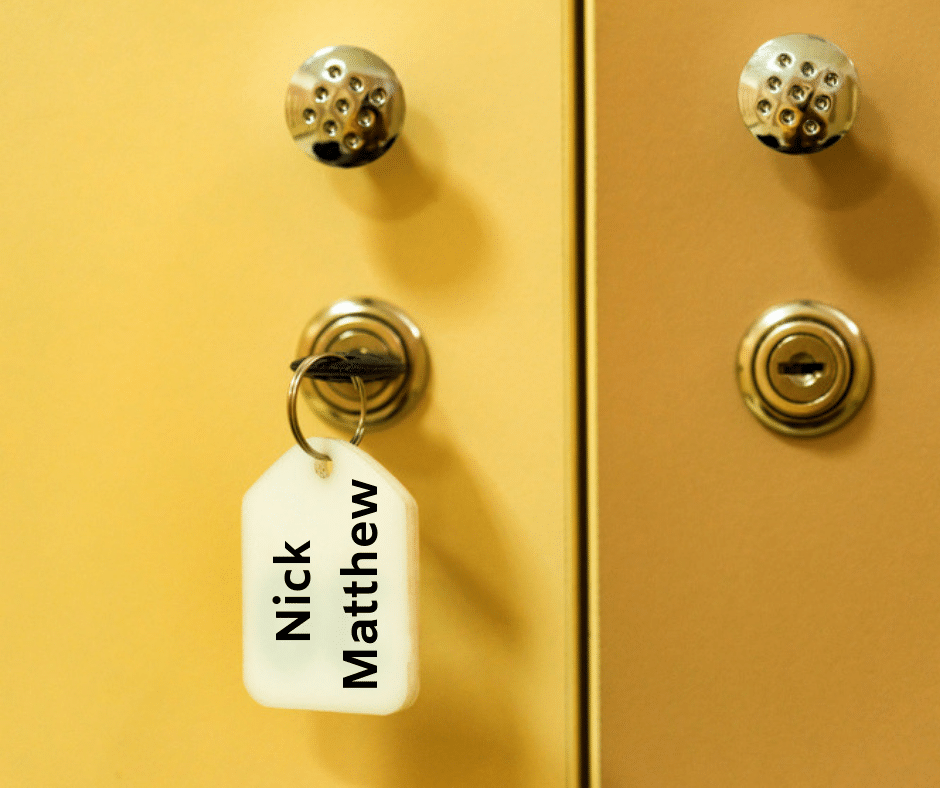 Nick Matthew Net Worth
There is speculation about Nick Matthew's worth in several sources.
Celebstrendnow.com speculate that his net worth is around $1million. They cite tournament earnings as the major source of income for this figure. Clearly endorsement deals and business success have not been taken into account.
An estimation made by idolcelebs.com puts that figure closer to $10-million.
Net Worth List, produced a figure of $5-million. That publication also cites tournament success for its figures and there is minimal detail on endorsement deals and commercial success.
We have settled on the figure of $5million following some extensive research of his career, both on the court and off.
Nick Matthew – Squash V Tennis
It is an established fact that Nick Matthew, as a young man, harbored aspirations of becoming a professional tennis player. He ran into a set of squash courts by accident and took the sport.
In retrospect, the three-time World Squash Champion probably made the right career choice. He is one of the most talented squash players the world has ever produced and the fraternity is blessed to have watched him play.
However, the jury is probably still out on whether he made the right financial decision. In a 2014 interview with The Guardian, Nick Matthew acknowledges that he probably would not have made it to the top of the tennis tree.
However, there is also an argument to be made that as a mediocre tennis player Nick Matthew would have earned more money than he did as a squash player. Many tennis players who achieved very little on court, have gone on to built successful off court careers that had to do with the sport.
It is true that Nick Matthew has created a great life for himself, post his squash career. However, it is a life that he could easily have created as a British number four tennis player even. In that same interview, Nick Matthew (who was still at the peak of his powers then) shed some light on what he spent his money on.
During his glittering career, Nick Matthew enjoyed meaningful success competing in Qatar. He recalled how after his first success at Qatar, he splashed the cash on a new Omega watch – sold by the jewelers who sponsored the tournament. Neat.
He mentioned that he won a mere £3,000 in that tournament. And he spent it all on a watch that was actually probably worth £5,000. Thank goodness he knew there would be more financial success to come.
He also got paid that money in cash, which is just hilarious – and an important indicator of just how low the squash base was in the early 2000s. From a financial point of view, the sport is still playing catch-up though and Nick Matthew belongs to the generation that made financial sacrifices for the advancement of the sport.
Tournament Wins
Nick Matthew was at the peak of his powers between 2010 and 2013, when he won the World Squash Championships three times. Those victories came against James Willstrop in 2010 (Saudi Arabia) and twice against Grégory Gaultier in 2011 (Rotterdam) and 2013 (Manchester).
The victory against Willstrop and the first victory Gaultier came after four gruelling games. Whatever he made from both of those finals was thoroughly deserved. His winnings in Gaultier II were even more deserved after five breathtaking games.
The total tournament purse at the 2010 World Squash Championships was $327,500. Nick Matthew walked away with $48,400 for winning that tournament.
The total tournament purse at the 2011 World Squash Championships was $275,000 and the top players were hit the most by that decrease. Nick Matthew walked away with $40,000 for his success at that years tournament.
The total tournament purse at the 2013 World Squash Championships was $325,000 and Nick Matthew walked away with $48,000 for winning that tournament.
Nick Matthew competed in two finals at the Australian Open. He won the first of those finals in 2010. However, he lost the second to the legendary Ramy Ashour in 2011. Details on the total purse available for the tournament are not clear anymore.
However, for his exploits in 2011, Nick Matthew walked away with $15,525, for being a losing finalist. The total tournament purse at the 2011 Australian Open was $150,000 – which in the squash context is actually pretty fair for a Platinum Tournament.
Nick Matthew was a runner-up at the 2011 British Grand Prix – a Gold Tournament. The total tournament purse at the 2011 event was $115,000. For his efforts Nick Matthew walked away from the tournament with $11,500. That figure could have been $17,500, had he won the tournament.
Oh…for the record, he lost to Ramy Ashour again. That became quite a habit during his otherwise glittering career.
Being an Englishman himself, Nick Matthew enjoyed a considerable amount of success at the British Open, which he conquered three times. While we do not have the details for his first two wins, which came in 2006 and again in 2009, we do know that he walked away with $23,625 for beating Ramy Ashour in 2012.
In 2014 and again in 2017, Nick Matthew lost the British Open Final to Grégory Gaultier. In both events the total tournament purse was $150,000. Both times, Nick Matthew only walked away with $15,525, as a losing finalist.
Nick Matthew beat Borja Golán in four games at the 2013 Hong Kong Open. The total tournament purse at the 2013 tournament was $150,000. Nick Matthew's share for winning that tournament was $23,625.
Nick Matthew played against Ramy Ashour in four North American Open finals, between 2009 and 2013. The financial details for 2009 and 2010 are not readily available. What we do know is that Nick Matthew won the 2011 battle and lost the 2013 battle.
The total tournament purse in 2011 was $115,000. Nick Matthew walked away with $17,500 for his efforts. In 2013 Nick Matthew only walked away with $11,500 from that total tournament purse.
Another Egyptian who has given Nick Matthew a bit of a headache during his career is Mohamed El Shorbagy, who beat him at the 2013 Qatar Classic. Because of that Nick Matthew only walked away with $15,525.
The total tournament purse in Qatar that year was $150,000.
Between 2011 and 2016 Nick Matthew competed in four Tournament of Champions finals. Two of those finals were against Mohamed El Shorbagy (2015 and 2016). The 2011 final was against Ramy Ashour. Nick Matthew lost all three of those.
In 2012 Nick Matthew beat compatriot James Willstrop in four games. The total tournament purse that year was $115,000. Nick Matthew walked away with $17,500 for his efforts during that campaign.
As a finalist in 2011, Nick Matthew walked away with $11,500. For his failed campaign in 2015, Nick Matthew took home $15,525. His other failed campaign came in 2016, when he also took $15,525 home. The bogey on both occasions was Mohamed El Shorbagy.
Amr Shabana, Grégory Gaultier and Mohamed El Shorbagy are the three men who beat Nick Matthew at the US Open – in 2011, 2013 and 2016.
Nick Matthew went into the 2011 tournament as the number one seed and walked away with $11,500.
The Englishman went into the 2013 tournament as the number three seed and again walked away with $11,500. Nick Matthew went into the 2016 tournament as the number four seed and subsequently bagged $15,525.
Nick Matthew played in two Windy City Open finals – in 2015 and 2016. The first time he beat Mohamed El Shorbagy and walked away with $23,625. The second time he lost to the Egyptian and had to settle for $15,525.
Throughout his career, Nick Matthew won 33 tournaments on the PSA World Tour. That places him in a tie for eighth on the all-time list. In addition to that, he ranks 4th on the all-time list for PSA World Tour final appearances.
He competed in a total of 71 professional finals. This is not a dance. Nick Matthew ranks at 5th on the all-time list for World Series tournaments and those are generally the higher paying tournaments. He also played in 34 World Series finals.
Book Sales
We are estimating Nick Matthew's total income from book sales and related activites as $200,000
Sweating Blood: My Life in Squash: The Official Autobiography of Nick Matthew, was released in paperback in September 2013. This book has sold well over the last few years, and is on the bookshelves of most ardent squash enthusiasts.
Racket Sponsor
During his glittering career, Nick Matthew was associated with Dunlop rackets – an association which he still has even in retirement. The Nick Matthew Academy was launched in February 2016. Equipment suppliers Dunlop are heavily involved in that campaign.
We estimate his income from racket sponsorship at $1million.
Endorsements
In the main, Nick Matthew's shoe sponsor is HI-TEC. His string sponsor is ASHAWAY and his apparel sponsor is DUNLOP.
While Nick Matthew probably does not enjoy the same social status as fellow Brit Andy Murray, their sporting circumstances are actually quite similar in that they have carried the hopes of a nation in their respective codes.
You see, in 2006 Nick Matthew became the first Englishman to win the British Open title since 1939. The United Kingdom has waited a long time for a local to win that country's national championship. In the same way that a national was forced to wait for what felt like an eternity to see a British man lift the Wimbledon singles title.
It then comes as no surprise that Nick Matthew is still associated with some of the biggest brands in the world. They include: AJ BELL, ROWE MOTOR OIL, SCARBOROUGH GROUP, NOVELL COFFEE, FAIRBRIAR, BENZ BAVARIAN,TRION:Z, ENGLAND SQUASH, HALLAMSHIRE TENNIS & SQUASH CLUB.
For those who don't know, AJ Bell is a financial and investment services provider. In addition to this, Nick Matthew – through his academy – has associations with the One Health Group.
We estimate his other endorsements to equal $200,000
Nick Matthew Academy
Nick Matthew opened his academy in 2015, when he started work on producing the next great English tennis player. His coaching centre is highly developed and caters for children and adults. That kind of elite-level expertise often comes with a heavy price tag.
If there were any financial shortfalls during his professional squash, they are likely being made up for with this highly developed academy that is in high demand. It doesn't end there though. The Nick Matthew Academy might be headquartered in the United Kingdom but it also has a significant base in the United States, where there is a massive market for squash players.
As is the convention in the United States, the American base hosts a series of summer camps and special events too. There is little doubt that those generate significant revenue, for Nick Matthew and his team of experts.
In addition, Nick Matthew has commercial partnerships with NETSUITE, SEA ISLAND RESORT, SQUASH AND BEYOND. The man has been busy.
Other Sources of Revenue
We estimate these to be about $50,000 per year.
Nick Matthew has also established an outstanding career as a pundit and broadcaster in the United Kingdom. His range does not end with squash though. He interviews a variety of athletes from all walks of life.
In addition to this Nick Matthew produces regular content for the Sheffield Star, the publication from his home town. He has also completed some commentary stints for Eurosport and BT Sport. If ever there was an all-rounder, Nick Matthew is it.
Oh wait, you all thought we were done? Nick Matthew is also a public speaker. That's right. Let us face it, the man is somewhat of an inspiration. Among one of the most ruthless squash players ever produced.
People like listening to a man like that. Most of his talks are of a motivational nature and about teaching people how to counter adversity.