It comes as no surprise that lacrosse as a professional sport is not as popular as football or even hockey.
Although it is an interesting sport and has also been a part of the Olympic Games, it has yet to see the kind of enthusiasm from crowds that is usually reserved for, let's say, baseball. We'll get into why that is another time, but today we are delving deep into the world of professional lacrosse.
So, then the question naturally arises: how much money do professional lacrosse players even make? Lacrosse players, on average, make about $23, 878 between the three major leagues. PLL players make about $35,000, MLL between $10,000 and $25,000, and NLL between $9,000 and $34,000.
There is very little fan support associated with lacrosse games: the world championship isn't made popular through songs and jingles, the players aren't signed on for various brand representations, and barely any TV channel shows lacrosse games to international crowds.
ESPN carries the NCAA men's finals, but you'd be hard-pressed to find other coverage.
If you aren't satisfied with the short answer (and you shouldn't be!), read on to find out everything we were able to discover about the salaries of various professional lacrosse players.
This article will discuss the three major leagues, the highest-paid player in the history of lacrosse, and other popular players who manage to more than earn their living playing the noble sport (even though they may have other sources of income). So get comfy on your couch and get your reading glasses out; this is going to be a fun read!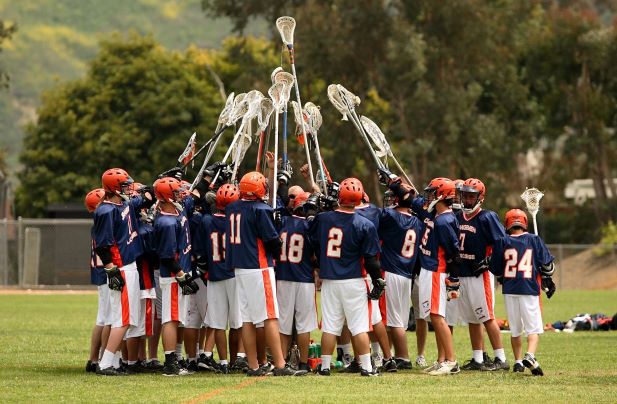 Premier Lacrosse League (PLL)
The premier league for lacrosse is the biggest one to exist. The league had its inaugural season pretty recently in 2019 where 8 teams participated.
The teams included Archers Lacrosse Club, Atlas Lacrosse Club, Chaos Lacrosse Club, Chrome Lacrosse Club, and four others. Interestingly, the league was founded by star lacrosse player Paul Rabil and his brother Mike Rabil.
In the Premier Lacrosse League, players make about $35,000 on average per season (Source).
The players also receive benefits such as healthcare and equity in the league itself.
The players having equity in their own league teams is something unheard of in any sports league. There is not much information publicly available, but we do know that the minimum salary for a player is $25,000, which seems quite respectable.
Major League Lacrosse (MLL)
Unlike the Premier Lacrosse League, Major League Lacrosse (MLL for short) has been around since 2001, which is when the inaugural season took place.
The MLL is the oldest professional lacrosse league in the world. There are 16 games played in the regular summer season, followed by a play-off between four remaining teams. The winner gets the Steinfeld Trophy, named after the founder of the MLL, Jake Steinfeld.
Although the MLL has been around longer than PLL, the average salaries given to the players are much less.
The average salary range for pro lacrosse players is around $10,000 to 25,000; there are no medical or other benefits besides this.
For a rookie, the salary is even lower at about $7,000 a season. A petition to increase players' salaries by 50% has been on the books for a while, but there is no public information that would confirm the news.
Many team-owners have quit the league due to the low salaries, which makes it harder for the league to make more cash.
Nobody knows how much longer MLL will survive without proper funding from the government or other sources.
Although before the Premier Lacrosse League was launched, Major League Lacrosse was the only option available for professional lacrosse players in the US.

National Lacrosse League (NLL)
The National Lacrosse League has a total of 11 teams that face each other in playoffs all season. Like the MLL, however, there is a very limited salary package for pro lacrosse players.
The average new player will be paid barely $9,000 a season, while the highest-paid player will get no more than $34,000 on his salary slip.
This is barely enough cash to get by on for a whole season, let alone an entire year.
This serious lack of funds makes lacrosse players sign up for more than one team in various lacrosse leagues, which in turn makes for tired players and lukewarm performances.
The NLL did put out a press release in 2018 that claimed to plan on increasing players' salaries up to 25% and providing them with proper medical benefits.
However, we didn't find any follow-up news on this claim. The NLL does do a great job with streaming and highlights for games on cable, so we hope that they live up to their standards!
Women's Lacrosse
The whole world is already aware of the wage gap that exists between men and women doing the same job in corporate fields.
Well, lacrosse is no different. The Women's Professional Lacrosse League (WPLL) was founded and inaugurated in 2018, and four teams took part in the initial season. Not only are female athletes paid mere pennies compared to their male colleagues, but it is also only recently that female lacrosse players are being paid to play at all!
The United Women's Lacrosse League was founded in 2016 in the US and is still considered very new—which means, once again, that the idea of women playing lacrosse professionally and being paid for it, is pretty new itself.
What is interesting is that women's lacrosse generates almost as much revenue as women's tennis does! (Source).
Still, compared to their male counterparts, female lacrosse players make much less. The actual number is not publicly available, but considering that only 4 professional teams participate in the WPLL, it's not just conjectured that women athletes make much less cash.

Highest-Paid Lacrosse Player
Paul Rabil
If you are even slightly acquainted with the world of lacrosse, it is impossible to not have heard of Paul Rabil, a midfielder for the New York Lizards in MLL.
At 31 years old, Rabil is the face of lacrosse. There were numerous articles published about him recently when he became the first pro lacrosse player to surpass a million dollars in career earnings. However, his earnings come from primarily off the field.
Because Rabil is considered the best lacrosse player in the world, he has received several endorsement deals with brands like Red Bull, New Balance, GoPro, and other sports-associated brands.
Paul Rabil's net worth is estimated to be between $1-5 million, and he recently founded the PLL (Premier Lacrosse League) with his brother.
Rabil naturally has a lot to say about the measly salaries paid to lacrosse players as compared to players of major league football or basketball.
This was one reason he felt the need for another lacrosse league that takes into account the needs and requirements of new lacrosse players—which led him to single-handedly venture into creating the PLL.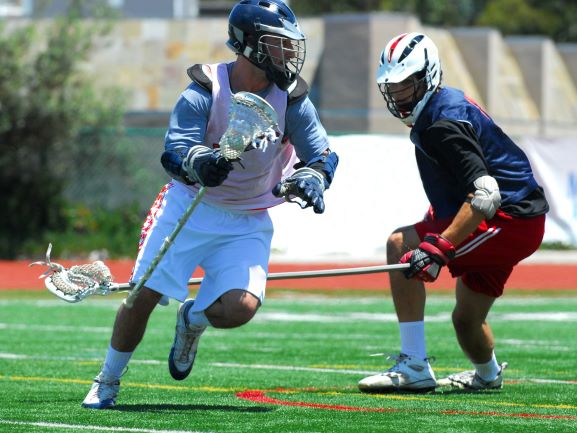 Wealthiest Lacrosse Players
We've discussed in quite some detail how little money there is to be made in professional lacrosse.
However, here is a list of the richest lacrosse players (who made their fortune off the field) who invested their time and efforts into making pro lacrosse a viable career option for newer players.
For this list, our definition of a lacrosse player is someone who has at least played college-level lacrosse.
Chris Hogan
Chris Hogan is a fairly popular NFL player with a net worth of 6 million dollars.
He has played for several teams such as the Patriots, Panthers, and the Dolphins. He first played lacrosse as a student at Penn State University, and then transferred to Monmouth to pursue a career in football instead.
Although he is now associated with the NFL, Hogan is still pretty active in the lacrosse community and displays his support for the sport on his social media.
Erika Nardini
With a net worth of about 10 million dollars, Erika Nardini is the CEO of barstool sports—a wildly popular sports media company.
Nardini played lacrosse as a sophomore at Colby College and is still very supportive of the sport in general. She is good friends with Paul Rabil, and also owns The Water Dogs: a PLL lacrosse team.
Bill Belichick
Bill Belichick has an astounding net worth of about $35 million as one of the winningest football coaches of all time.
Belichick has been a huge ambassador for lacrosse, along with his entire family—his daughter Amanda Belichick acts as the head coach for the Holy Cross women's lacrosse team, and his two sons play college lacrosse.
Belichick himself played lacrosse for Wesleyan and acted as a volunteer high school lacrosse coach after he graduated. He's also on great terms with Paul Rabil, and is seen attending lacrosse games throughout the year.
Jim Brown
Jim Brown barely needs any introduction. As one of the greatest football ever, his net worth is at about $50 million.
The lacrosse community is well-acquainted with the fact that Brown used to play lacrosse for Syracuse.
Jim Brown is famously known to have said: "I would rather play lacrosse six days a week and football on the seventh."
Like all ex-lacrosse players who have moved on to other sports, Brown is very vocal about his love for lacrosse. He attends sporting events and is on talking terms with many popular lacrosse players.
Chase Coleman
With a giant leap in net worth, Chase Coleman, the founder of Tiger Global Management, is at 4.5 billion dollars.
Graduating from the Deerfield Academy in the early 90s, Coleman went on to co-captain the Williams men's lacrosse team in 1997.
Although there's very little information on the internet about his links with lacrosse, as he is a super-private person.
Meg Whitman
With a net worth of about 5 billion dollars, Meg Whitman (founder of eBay) has a lot to give to lacrosse.
A very successful American business executive, Whitman used to play lacrosse for Princeton, where she graduated from in 1977. She is not very active in the lacrosse community, unfortunately, but it is still fascinating to know that a powerful executive once picked up the crosse!
Joe Tsai
With a whopping 12.7 billion net worth, Joe Tsai is at the top of our wealthiest lacrosse players list!
He is the co-founder of the Alibaba group, an online retail store much like Amazon. He owns the NBA Brooklyn Nets.
Tsai has been playing lacrosse since he was 13 years old, and he played lacrosse for Yale all four years that he was there.
Fortunately, Tsai is a very active member of the lacrosse community and supports the sport in every way he can. He is recognized as a very generous and likable character in the sports world and a much-needed ambassador for lacrosse.
He owns a National Lacrosse League team called the San Diego Seals and has also made investments in Paul Rabil's Premier Lacrosse League venture.

Tom Schreiber
Tom Schreiber is currently a professional lacrosse player unlike the others on our list.
He was one of the 140 players who signed a contract to play in the nascent Premier Lacrosse League.
Later on, he was assigned to the Archers Lacrosse Club.
As of 2019, Schreiber's net worth was estimated at about 1.5 million dollars, although little information is available about the details.
Myles Jones
We're sure you know by now how little money there is in store for professional lacrosse players.
However, Myles Jones, who plays for Redwood Lacrosse Club in the PLL has a net worth of $10 million.
He's considered one of the top midfielders in the country and is well-respected in the lacrosse community. There is little information about the exact salary he is paid by the PLL.
Average Salary For Lacrosse Players
A recent calculation suggests that there are more than 825,000 lacrosse players in the US alone.
The number is increasing every day as student players graduate and display an interest in playing the sport professionally.
Despite the popularity of lacrosse, there are very few players that are enjoying a financially successful career playing their sport. In fact, it isn't unheard of for players to have a day job that they rely on for the cash while they play lacrosse in their free time.
Many lacrosse players have full-time jobs in finance, law, and various other fields.
Although there are a number of factors that go into deciding how much a professional lacrosse player will be paid, there is a common consensus that the salaries just aren't enough.
This is indeed a sad state of affairs when you consider how much financial security professional basketball, hockey, football, or even golf players enjoy. Imagine how much more time lacrosse players could invest in practice and play if they were paid a decent living wage for playing professionally!
Federation of International Lacrosse
The FIL, an international federation for the game of lacrosse, holds a yearly tournament known as the World Lacrosse Championship.
Teams from all over the world, especially English speaking nations such as Canada, Australia, and England, compete in a months-long tournament. In the Men's World Championship, the US has won gold at least 10 times. However, the US team did not do very well these past two years.
In my opinion, this is a cycle that forces professional lacrosse players to invest their time in other, better-paying jobs, robbing them of the opportunity to dedicate all their time to lacrosse.
However, the US does have major league lacrosse, which enables players to practice and prepare for international tournaments.
Wrapping Up
Our list doesn't cover every single lacrosse player who isn't out on the street, but it is quite clear that there is an upper limit to how much a lacrosse player can earn (exclusively as an athlete).
Whether it is the PLL, MLL, or NLL, there is incredibly little money to be made as a professional lacrosse player.
Going through this article, you can see the tough spot created for professional lacrosse athletes.
Players have full-time professional commitments far removed from the world of sport: some work as medics, some are finance managers, some are lawyers, coaches, and journalists. It is clear that if we want more young people to get into pro lacrosse, we must remove the barriers that stand in the way.
Lacrosse may be a sport that generates less fan fervor than others, but it isn't too crazy to hope that one day it will get the respect (and investment) that it deserves.
Besides, pro lacrosse players have dedicated their lives to playing this sport and they deserve to be aptly compensated for their efforts.
We hope that in the near future, lacrosse players will not only be given enough salary to live off without other day jobs, but also as much money, fame, and respect as they deserve!