I've been tenpin bowling more times than I can count, and have made my fair share of strikes and spares. And dare I say it, gutter balls.
While I'm very much an amateur I was curious about whether bowling is a professional sport, and looked at how much money professional bowlers make. I thought I'd write this list to explain 9 reasons why bowling is a professional sport.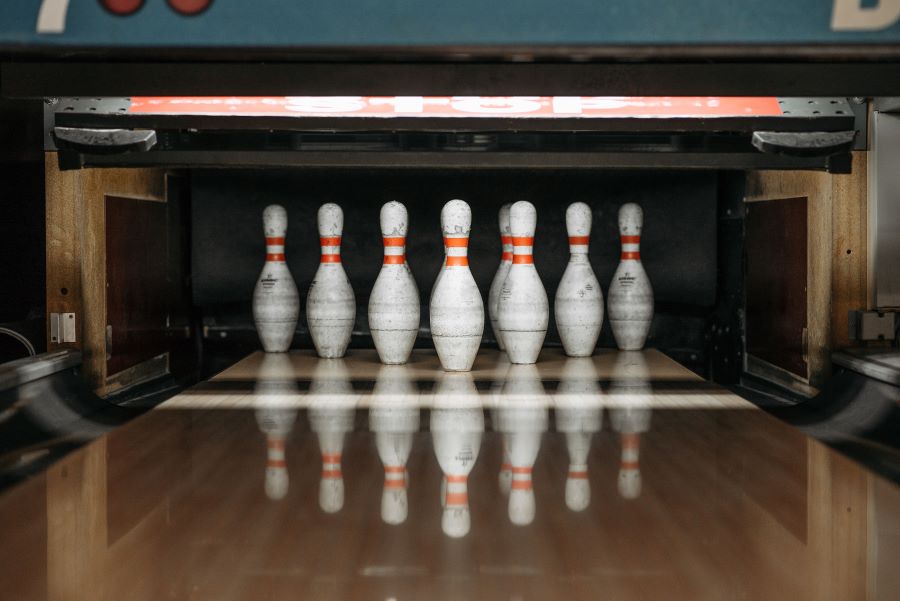 1. Professional bowlers get paid to win megabuck tournaments
There are broadly 3 types of bowling tournaments. There are singles, doubles, and team competitions.
There are megabuck tournaments scattered around the country in the USA.
For example, in Las Vegas they have a $150 entry, then if you make it through you are guaranteed $4,000. And if you go on to win the whole tournament the first prize is $100,000.
These are a fun way that professional and amateur bowlers can make a lot of money. However, they are often very difficult to win as the requirements to win are so high.
2. Top professional bowlers can earn $200,000 or more from tournaments
In 2020, the top 4 professional bowlers earned over 200,000 in tournament winnings, according to Flobowling.com. Although, this pales in comparison to other sports such as basketball or golf.
Here's what the top professional bowlers in 2020 earned from tournament winnings:
Jason Belmonte – $293,050.00
Bill O'Neill – $272,285.00
Anthony Simonsen – $227,130.00
Kristopher Prather – $223,285.00
The top 30 professional bowlers earned over $30,000 in 2020 from tournament winnings alone, which is enough to be a full-time professional.
This shows the money that's available to the top bowlers. And is enough to go professional just with tournament winnings alone.
3. Professional bowlers can write training books and memoirs
Writing a book about your life experiences is something that professional bowlers can make money from. Though, it generally wouldn't be their only way to make money, combined with other income like tournaments and sponsorship deals it can end up adding up.
Michelle Mullen, a former USA Team bowler, wrote a book called Bowling Fundamentals which sells in paperback and on Kindle on Amazon.
Generally, people like to hear advice from professional bowlers that have a name for themselves.
Which generally only comes after they are established in their career. In my experience, people love to hear stories and anecdotes about their life in written form.
Or, have them explain techniques in the form of a handbook where they share their secrets to performing at the highest levels. Which can also include nutrition, sleep, and exercise.
For example, dumbbell exercises, wrist exercises, and the like.
Although, most of the wisdom about these topics applies to all sports and there is overlap. Bowling has very unique movements, so people love to know about how the top professionals train.
4. Professional bowlers can make money by endorsing products
It's natural over the career of a professional bowler that they will have preferred brands of all of the things they use in bowling. This includes shoes, gloves, the ball itself, and clothing.
Once a professional bowler is well known they can get approached by brands that ask them to try their products and give their honest recommendation. It's a win-win situation for both the bowler and the brand.
A typical deal could involve getting a lump sum payment for providing a review of a product. Or, could also include a revenue share where they get a percentage of sales made of a signature model of a product.
For example, if they make a 'John Smith' bowling glove. Here I used 'John Smith' as a theoretical professional bowler. Then, John Smith could get a percentage of all John Smith gloves sold.
Jason Belmonte, who is considered to be one of the best bowlers at the moment, has a line of clothing with Coolwick, called the 'Belmo' line.
5. Professional bowlers can earn big money coaching
These days with how fast and widespread the internet is, it's easy to give video coaching, as well as, do in person one on one coaching.
Sports coaches can often charge high hourly rates in the $100's of dollars. For a very well-known bowler they can charge even more.
On top of that, they can come up with customized plans for bowlers to improve their bowling. Although not everyone has a desire to be a professional bowler, even amateurs can jump at the opportunity to get some help on their technique and some pointers from a professional bowler.
6. Bowlers can get sponsorship deals for unrelated products
It's common that famous athletes will get deals to endorse unrelated products such as food and drinks.
They can be somewhat related to bowling such as sports drinks, and energy bars. But, if an athlete is famous enough it could be anything under the sun.
For example, the famous tennis star John McEnroe once endorsed Bic ballpoint pens. Due to bowling not being as popular as other sports such as tennis or soccer the opportunities can be more limited.
7. Professional bowlers get paid to show up at events
If a professional bowler is famous enough they can get paid just for showing up to an event.
Although, a professional bowler is more likely interested in winning a tournament and getting the winnings. It can often be a great way for less well-known tournaments to make a name for themselves.
For example, they can pay a professional bowler to do a signing appearance or to be a celebrity partner or team member in team and couples events.
8. Well known bowlers can star in movies
There are many well-known movies that have a bowling theme.
Kingpin and Big Lebowski are probably the most well-known. In these movies, it makes sense to have professional bowlers appear alongside professional actors to make the movie seem more authentic.
9. Professional bowlers can create their own brand
Although professional bowlers can get their own line of clothing, and equipment with well-known brands, they can also create their own line of products.
Based on their experience it's possible they can create something totally unique that can give them even better performance.
There are many examples of professional athletes who have created their own brands. Brunswick, a well-known bowling brand was started by John Brunswick, who was an avid bowler.
Sources