There is a common misconception that lacrosse is a challenging game.
Maybe is seems daunting and challenging as it is a physical contact game, or perhaps the rules don't seem as clear as other sports. Perhaps you are concerned about the level of skills required to play to a successful level.
Is lacrosse a hard sport?
Compared to most other sports, lacrosse is a relatively easy game to pick up. The rules are simple, and it's structurally similar to soccer. The core skills can be developed through persistence and practice, as can the tactics and strategies of the game.
Simple enough, right?
Once you do get the hang of it, there is nothing that can hold you back; repetition and reinforcement can let you master any skill over time.
So, if you're putting off lacrosse because you're unsure what to expect when it comes to the difficulty level, this post is just for you. Here, I'll list down nine reasons why lacrosse truly isn't that hard.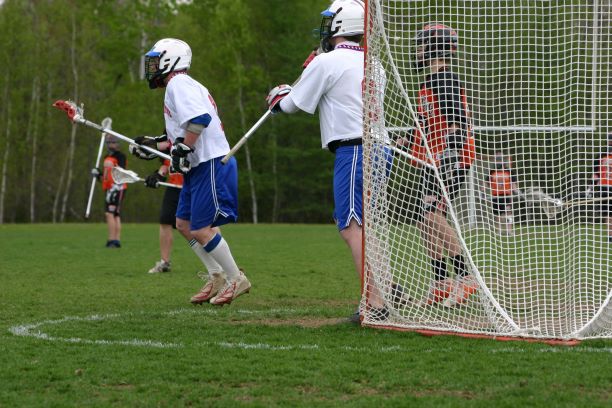 1. It's The Fastest Sport Played On Two Feet
Lacrosse is an incredibly fast-paced game with quick transitions. In an average game, you can expect around twenty goals scored.
Compared to other games such as soccer or football, which can easily go on for hours, you can expect a quick and adrenaline-packed game.
This allows you to play at your optimum energy level. The game goes on for just the right amount of time where you're able to give a hundred percent and does not drag on to the point where you get completely exhausted. This helps you focus on what really matters: getting the ball in the net.
2. Size Does Not Matter
In sports like football or basketball, a certain height or build gives you an edge over the other players. That's not the case with lacrosse. Here, everyone has a level playing ground.
In fact, being small can actually help your case. You can avoid tackles, pass through gaps and sneak past opposing defenders.
All you need to master is the technique; this makes lacrosse a lot easier than other games.
You won't have to spend extra time in the gym to get in the right shape. All you need is your skill and technique to get started as soon as you walk on the field!
3. It Combines Many Sporting Skills
Lacrosse is so enjoyable because it combines a variety of sports in one action-packed game. You can see ice hockey, field hockey, football, and basketball all in play during a lacrosse game.
While this adds to the game's enjoyment factor, it also makes it relatively simple to master.
If you're adept at any or all of these sports, you'll be a pro at lacrosse in no time! You won't have much of a learning curve as you already possess the agility and skill required through prior experience in this versatile game.
4. It's Safe
While men's lacrosse is a full-contact sport, it is still safer than other games because of the robust protective gear.
Women's lacrosse is not full-contact and is even safer! All players must wear safety gear, and you can also don an additional one for further precautionary measures.
Research backs this claim.
The number of lacrosse-related injuries in US hospital emergency rooms has significantly decreased between 2012 and 2016 (source). Such steps reduce the stress and anxiety that come with safety and focus on the game. This, in turn, gives you more time to practice and learn.
This makes the game easier to play.
The style of play is also less aggressive than sports like football or rugby, where you have to focus on the game and keep yourself safe from significant injuries like concussions and contusions simultaneously. With lacrosse, safety is taken care of, and all you need to pay attention to is the game.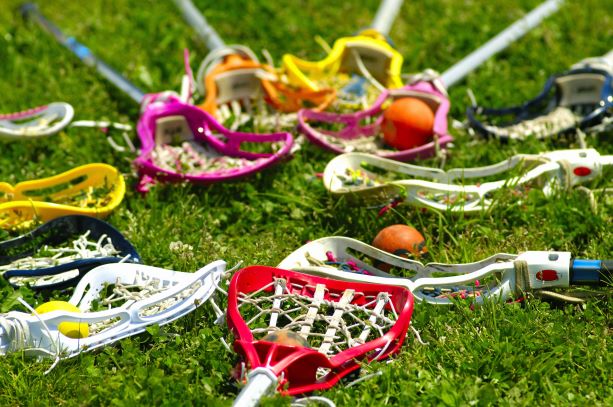 5. You're Part Of A Team
Lacrosse depends a lot on teamwork. There are multiple players for each position. Having this network significantly takes the pressure off a single player.
At the end of the day, it's not a one-man show but a joint effort. Everyone shares the responsibility of making or breaking the game.
The absence of this added pressure makes the game easier and pleasurable to play.
It also helps in creating an everlasting bond with your teammates.
Plus, the sense of community that it brings is another reason lacrosse is so popular with high school and college kids.
6. Practice Makes Perfect
This game is all about practice! You don't need any especially learned technique or skill to perform well here. In certain sports like tennis or football, you need to put in the time to learn additional skills that may help you succeed.
That's not the case with lacrosse.
Everyone has an equal chance to do well, as long as you practice basic techniques like tackling, defending, and hand-eye coordination. If you practice and play regularly, you'll be an expert in lacrosse before you know it.
7. Many Positions To Choose From
There are plenty of positions in lacrosse to suit everyone's style of play. You can pick any from goalkeeping, defense, midfield, and attack.
If you feel like midfield is not your niche, you can always try out the others like attack, goalkeeping, or defense.
Lacrosse is a dynamic game, and this makes it much easier for everyone to play. You can choose a position that best suits you.
And after a trial-and-error period, you feel you're better suited for another role; you can always switch and try that out!
8. You Always Have Control
In lacrosse, you'll be in total control of the ball. In every other sport, such as basketball, you can control the ball, but you're dribbling it, and it's more challenging to keep control. Even in soccer, you have to master the skill of controlling the ball with your feet.
Yet, in lacrosse, you have the ball in your stick and at your disposal, and the possession is much more organized. This also makes shooting the ball much more effortless.
Since you're controlling the lacrosse stick with your hands, you can choose to shoot it at the top corner, bounce it past the goalkeeper, or just rip it as hard as you can!
This makes lacrosse relatively more comfortable to master as you don't actually have to control the ball with your hands or feet.
9. Certified Coaches
Lacrosse coaches are usually certified and possess profound knowledge of the game.
This certification ensures the coach is aware of all responsibilities that come with coaching lacrosse and how to keep the players safe.
Given that lacrosse is still an emerging sport, you'll be guaranteed individualized attention from the team's head. Such personalized interaction will be a great way to shape your skills and knowledge of the game, making it a lot easier to play and learn.
Lacrosse is perhaps one of the most exciting sports out there. You'll form lifelong bonds with your teammates, and the in-game experience is unparalleled.
In fact, I think the experience of learning lacrosse can be such a valuable experience in our lives that perhaps we can honor it in some way.
I recently bought some of these enamel pins by EnamelPins Inc for our lacrosse team:
These will bring back memories of these precious years when you see them in times to come.
My last advice for anyone getting in lacrosse?
Take your time in trying out each position and deciding which one suits you best. If you're in high school and thinking of taking up lacrosse, you'll find plenty of great opportunities to do so, as well as a ready-made community to welcome you to the sport.
While the chances of landing a college scholarship or playing at the professional level are much higher with this sport, what truly matters at the end of the day is your passion for the game.
I hope this post helped you realize that lacrosse is not such a challenging game after all!
Like any other sport, all you need is the right amount of practice, determination, perseverance, and the will to succeed. Good luck and you'll be a lax rat in no time!
References:
Army & Navy Academy. (2017, 04). Lacrosse Interest Increases at US Boarding Schools. Retrieved from Army & Navy Academy:
Bano, Joseph M. Lacrosse-Related Injuries in Boys and Girls Treated in U.S. Emergency Departments, 2000-2016. Journal of Sport and Health Science, 15 Aug. 2020, https://doi.org/10.1016/j.jshs.2020.08.006.