Millions across the world tune in to watch the best tennis players battle it out at the Grand Slam tournaments.
It is easy to see how the skill and athleticism on display make for compulsive viewing. Many of us will watch and have the urge to grab a racket and head out to a court for a game.
It is estimated around 87 million people participate in tennis globally.
Maybe you have considered starting to play tennis, but are put off by the thought it is a young person's game. Perhaps you have a tennis mad child, but are wondering if they are already too old to have a realistic chance of playing the sport professionally?
The truth is you are never too old to start playing tennis unless you have serious ambitions of playing professionally. Tennis brings many health and social benefits and is a sport for all age groups. Tennis tests both your speed and endurance, where age is no barrier to playing the sport.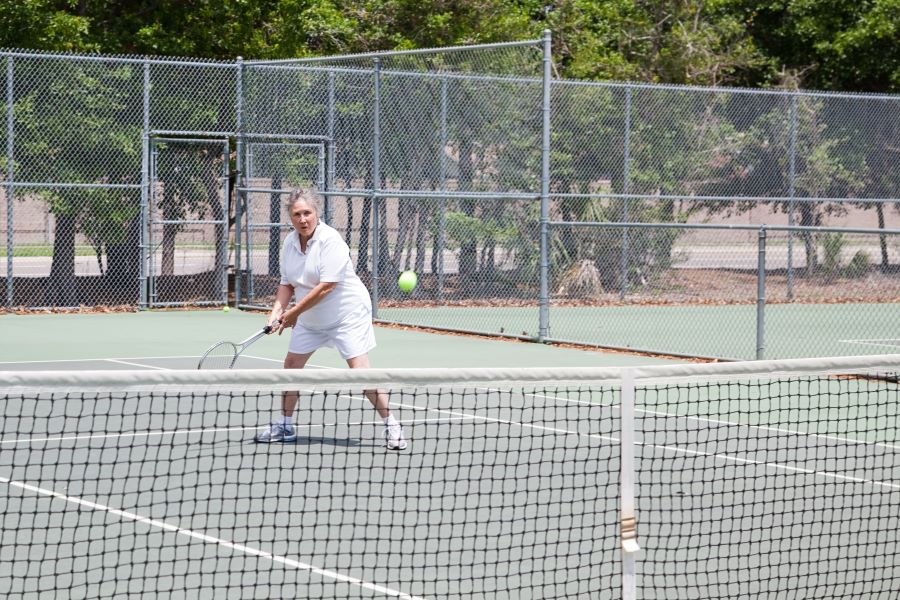 The One Scenario Where Age Does Matter
If your child shows promise at tennis, then having professional lessons earlier rather than later can be crucial.
For a realistic chance of playing tennis professionally, a child should be playing regularly by the age of 10.
This is not to say starting after this age makes it impossible to play professionally, but it becomes much more unlikely.
Tennis demands huge sacrifices in time, effort, and lessons to make a living out of the game.
Tennis maestro Roger Federer first started playing at age 8, and most instructors suggest the ideal time to start playing is between the ages of 7 and 8 years.
Children learn quite quickly at this age, and the technique and good habits learned are likely to be ingrained going forward.
Of course, a sense of realism must influence all this. Not everyone's child is going to be the next Roger Federer, and it is crucial your child still has fun playing tennis.
To have any chance of turning professional they will need a huge amount of commitment and determination to match the talent over their developing years.
Enjoying their tennis will make all the sacrifices a lot easier to accept.
I Am in My Teens, Am I too Old to Start Playing Tennis Now?
No, is the simple answer. You may be too late to start realistically thinking about playing professionally, but you can still play competitive tennis and you can still play for fun.
There are significant physical and mental health benefits for teens participating in active sports such as tennis (source).
There is still plenty of opportunity for competition if you start to play tennis in your teens. You may have the chance to play for your school or college, to represent your county or state.
Just because you bloomed a little later than others does not automatically exclude you from having a good collegiate tennis career.
Even as you move in to your twenties and thirties it is still never too late to start playing tennis. The sport is a great way to blow off steam after work or at the weekend.
By joining a local club you will have the chance to play on a regular basis, helping to improve your game.
Tennis clubs offer the chance for competition regardless of age, whether in a club's in-house tournaments or through playing league matches against other clubs.
Senior Tennis
As you get a little older you may find you have more time on your hands.
This can be the ideal time to start playing tennis, whether with a group of like-minded friends or with a club. Even if you are looking for competition your increasing years are not a barrier.
In many countries, including the United States, you will find a network of clubs and organizations catering for tennis players of all ages and abilities.
As people live longer and aim to lead healthier lives, tennis can play a significant role.
Taking the United States as an example, there are competitions and leagues covering age groups from the over 40's right up to the over 85's.
As well as the pure enjoyment people get out of the sport, there are other significant benefits from playing tennis.
These include physical and mental health benefits, cognitive benefits, and social benefits. I will take a look at some of these benefits below.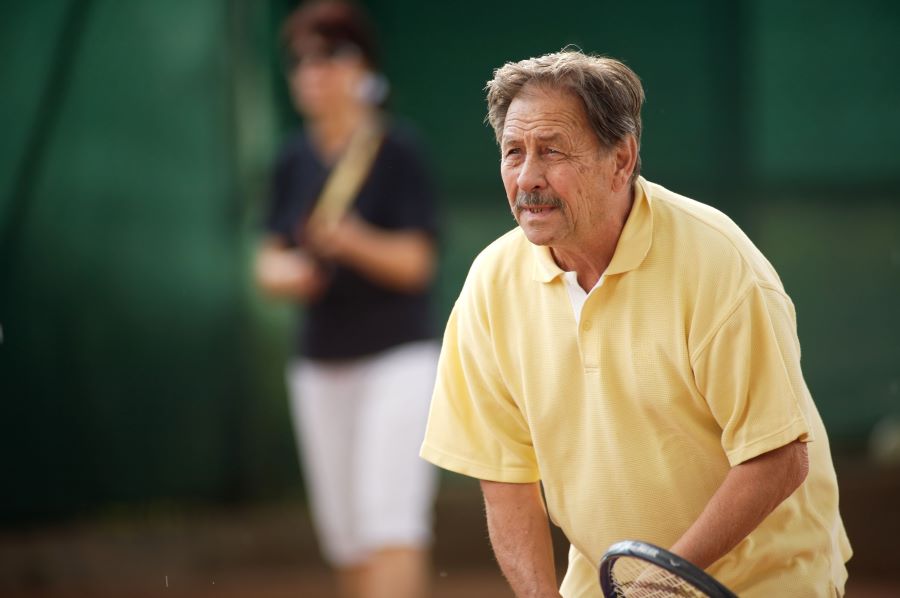 Why it Is Never Too Late to Start Playing Tennis
Leading an active lifestyle is good for our overall health (source).
A 2017 Danish study followed 8,600 participants over a course of 25 years and compared multi-variable adjusted life expectancy between sports.
Their study suggested playing tennis regularly may increase life expectancy by up to 10 years, with badminton next best with an average gain of 6.2 years.
The researchers summarized that exercise alone might not account for any increased life expectancy among sports participants. They highlighted the importance of social interaction within the sport and how this may also play a role in healthier lifestyles.
The health benefits of playing tennis are a key factor in why many start to play the sport, particularly those who are more senior in years. These benefits include:
Physical Health
Tennis is a sport that involves both speed (anaerobic) and endurance (aerobic) fitness.
Whether you are playing singles or doubles you are assured of a full body workout.
Benefits of playing tennis for your physical health include:
Improves cardiovascular health, with studies indicating playing tennis three hours a week can reduce the risk of heart disease by 50%.
Improves immune system
Improves agility
Strengthens bones and reduces risk of osteoporosis
Improves flexibility
Burns calories, on average between 400-600 calories per hour played
Better coordination
Good for cross training for other sports
Mental Health
Sports such as tennis do not only have huge benefits for our physical health. They can also play a significant role in improving our mood and helping our mental health.
Stress is a major cause of anxiety, but tennis provides an outlet for your stress.
When you play sports such as tennis the brain releases endorphins and serotonin, which are known to help improve your mood.
Further benefits from playing tennis include:
Improved self-esteem from better fitness levels, improved muscle tone and improved flexibility
More self confidence, with 91% of respondents in research by the charity Tennis Foundation stating tennis having a positive influence on their self-confidence
Improved brain function
Improved concentration
Social Benefits from Playing Tennis
A huge part of playing any sport is the fun of participation and the chance to meet people.
The social benefit of playing tennis at any age should not be underestimated. People can view tennis as a solitary sport, one where two players compete in singles matches.
However, this can't be further from the truth.
Tennis is a highly social sport, one where you can play against old friends, meet new friends and build lasting networks. This increases the enjoyment of the game, and helps boost your mental health.
Another statistic from the Tennis Foundation's research was 63% of respondents felt less isolated through playing tennis.
One of the big plus points with tennis is age and gender does not matter. Different ages and different genders often get to play one another, further increasing social understanding.
Playing doubles adds in the element of teamwork too, another potential bonding opportunity.
Conclusion
Age is not a barrier to playing tennis.
If you have ever considered playing tennis and thought you were too old for the sport, then think again. Regardless of age, playing tennis has many health and social benefits to offer the participant.
The only occasion when age becomes a factor is if your aim is to become a professional tennis player.
For the rest of us age is just a number when it comes to tennis. Whether you have never played tennis before or are looking to get back in to the sport, there are local tennis clubs up and down the country who will welcome you with open arms irrespective of your age.