Tennis remains one of the most popular participation sports. It is a global sport, boosted by high-profile professionals such as Novak Djokovic, Rafael Nadal, and Roger Federer.
But How Many People Play Tennis?
According to the last detailed study in 2019, 87 million people around the world play tennis. 22% of these are from China, and 20% are from the US.
The stats for tennis look amazing! It is super popular across so many countries and seems to be growing around the world.
In this article, I'll look at all the most important stats. I'll particularly look at tennis participation in the States, in Europe, and in Asia, and take a look at things like ages and other demographics.
So, let's dive in!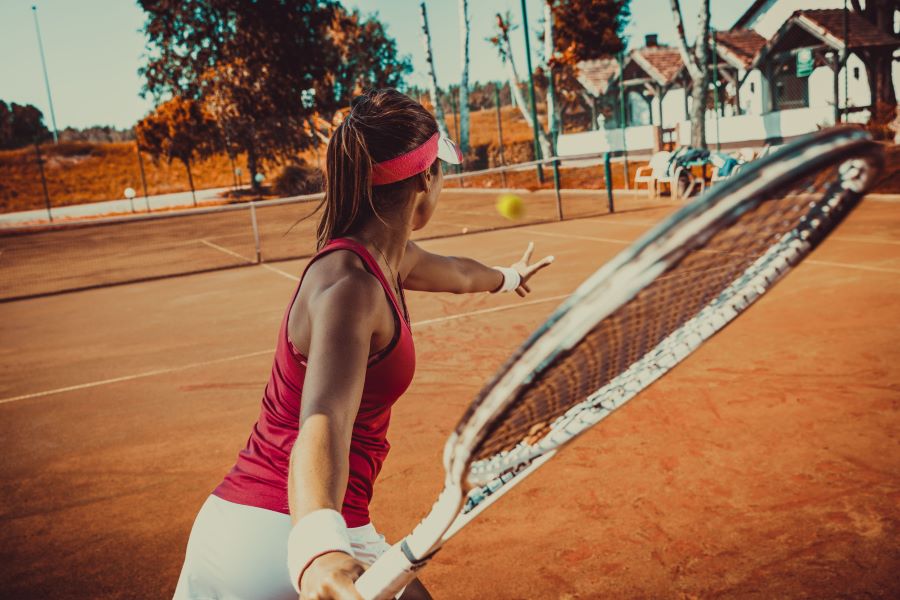 Global Tennis Participation Data
Tennis is a global sport, not just in terms of being a spectator sport but in participation too.
According to the most recent study in 2019 by the International Tennis Federation (ITF), 87 million people play tennis across the world.
The ITF has an ambitious target to raise this figure to 120 million by 2030.
With 87 million people playing tennis, this equates to 1.17% of the world's population at least occasionally picking up a tennis racket and heading to a court.
Of this total 47% are female, although the data shows only 21% of tennis coaches are women(source).
Tennis can only be a truly accessible sport if the necessary facilities are available for all.
The ITF report shows there are 489,000 recognized courts around the world, with 71,000 clubs that people can join.
No doubt these are figures the ITF will want to increase as they pursue their 2030 target of 120 million participants
To help reach their target they will be delving further into the details of the data to work alongside national governments and tennis federations. It is when you start to break the data down you realize how dominant some countries and areas of the world are for participation.
The countries with the most players may surprise people.
China Leads the Way
According to the 2019 ITF Global Tennis Report, China has the largest number of tennis players in the world.
Nearly a quarter of global tennis participation happens within China, who sit at the top of the board with 22% of the world's players. The full top six reads as follows:
China 22%
USA 20.7%
India 9.2%
Germany 7%
Great Britain 6.1%
Japan 5%
Therefore, over 50% of participants come from just three countries – China, the USA, and India.
The volume of Chinese and Indian players is the prime reason Asia as a region has the most tennis participants globally.
37.9% of the world's tennis players are found in Asia, compared to 31.2% in Europe and 23.2% in North America.
At the other end of the scale, Africa makes up just 0.1% of global tennis participants.
An interesting feature to note from the data is having the largest participation levels does not necessarily equate to having the most facilities.
The following table outlines the nations with the most tennis courts and clubs by global percentage.
| | | |
| --- | --- | --- |
| Rank | Tennis courts globally | Tennis clubs globally |
| 1 | USA 15.8% | USA 17.1% |
| 2 | China 10.2% | Germany 12.9% |
| 3 | Germany 10.2% | France 10.9% |
| 4 | France 9.4% | Vietnam 10.3% |
| 5 | Japan 5.8% | Brazil 6.3% |
Whereas China has the highest ratio of global participants and the second-highest number of courts, it does not feature at all in terms of number of clubs.
While it is not a surprise to see the likes of Germany and France figure highly in the top rankings, it is surprising to see Vietnam and Brazil in the top five for number of tennis clubs by global percentage.
Tennis Participation in the US
Interest in tennis remains strong in the US, with one-fifth of the world's tennis players located there.
The US has a rich heritage of legendary tennis champions who will have been idolized by aspiring young American tennis players.
The Williams sisters have maintained this tradition today and will be a large reason why North America has the largest percentage of female tennis players by region with 54.5%.
Tennis has seen a recent surge in participation after years where levels were fairly stable.
In 2020 there was a massive spike in participation with 21.64 million Americans playing tennis. This was a 22% rise on the previous year and is most likely related to the covid-19 pandemic.
During a tough year, people wanted to be out of the house, exercising in a safe manner, and tennis offers decent social distancing opportunities.
Yet the figures are highly encouraging, with 6.78 million participants either new to the sport or people who had not played for a while.
This increase in participation not only boosts the nation's health, the economy does well out of it too.
The Tennis Industry Association reported a 40% increase in sales of entry-level tennis rackets alongside this leap in numbers heading to American tennis courts
Tennis, like most sports, will have variations in the age groups who play. Figures from 2018 provided by the Physical Activity Council (PAC) show tennis was played most often in the US by those aged between 25-44 years, accounting for over 37% of players.
However, more seniors are turning to the game for health and social benefits, and by 2018 10.6% of all players in the US were over 55 years of age.
Perhaps equally pleasing is that over a quarter of participants are aged between 6 and 17 years of age. This was an increase in 2017 of 1.6% and is a trend US tennis authorities will be looking to encourage further.
New England has the lowest participation rates of any region in the US, with only 4.1% of the nation's players. The top regions were:
Pacific 22.9%
South Atlantic 20.8%
East North Central 13.1%
Middle Atlantic 11.7%
West South Central 10.7%
Again, as with different nations, different states and their cities will vary in the facilities offered to residents.
California is a state with plentiful facilities, with San Diego alone having around 70 tennis courts, 40 of which are public. Atlanta in Georgia is another city renowned for its extensive tennis facilities.
The PAC figures also show Florida seeing the largest increase in participation of all the states over a five-year period (source).
Florida has witnessed consistent growth in participation in this time of 7.7%. Around 1.5 million people in Florida played tennis in 2020, with 41% of this total being female players.
In terms of ages, 19% were over the age of 55, while 36% were aged 6 to 24 years old.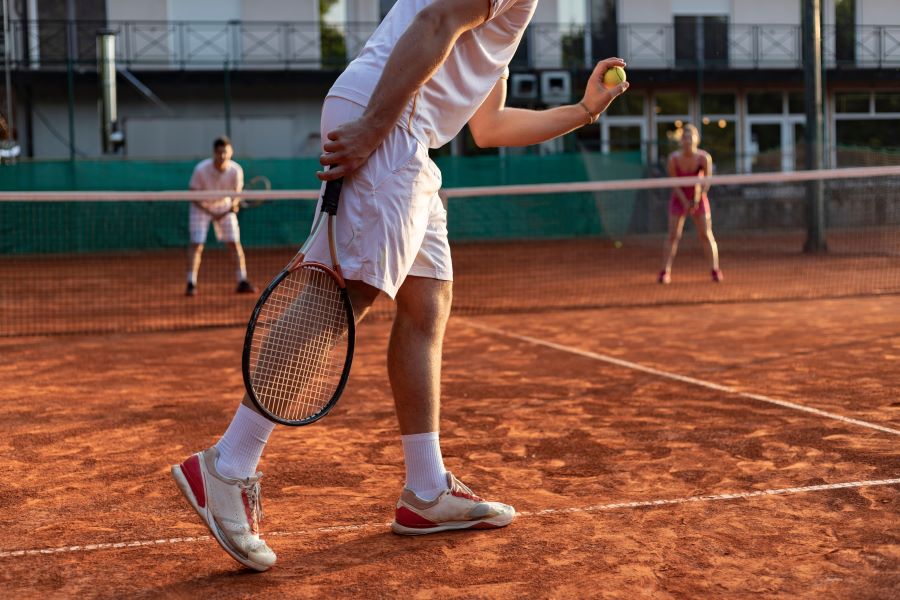 Europe
With two of the four grand slam tournaments, Europe has always been a traditional tennis continent.
However, participation is dominated by around ten countries, including Germany, UK, France, Russia, and the Czech Republic.
A 2018 report found that of the 25 million people playing tennis in Europe almost 90% of them came from just ten countries. The ITF report a year later showed that women make up just 41% of tennis players in Europe.
The following table shows how participation levels have changed in recent years. Below is a table showing recent changes in numbers for the six European countries with the largest percentage of participants on the continent.
| | | | | |
| --- | --- | --- | --- | --- |
| | 2012 | 2015 | 2018 | 2018 as Euro % |
| France | 4,102,921 | 4,102,921 | 4,700,000 | 18.74% |
| Germany | 4,000,000 | 3,500,000 | 3,500,000 | 13.96% |
| Italy | 3,150,000 | 3,150,000 | 3,150,000 | 12.56% |
| Great Britain | 3,291,000 | 3,010,000 | 3,030,000 | 12..08% |
| Spain | 4,750,000 | 4,750,000 | 3,000,000 | 11.96% |
| Russia | 550,000 | 2,400,000 | 2,500,000 | 9.97% |
It is easy to spot a couple of large potential discrepancies in this table, where numbers rise or fall quite dramatically between years.
This can be down to how the data recorded has changed in some nations.
For example, in Great Britain for 2015 the data shows people who played tennis four or more times during the course of the year. This was to bring it in line with other nations, having previously recorded data for people who have played just once in the year.
The key for national tennis federations is to look at the long-term trend in order to plan for investment in the sport.
An LTA review provided an even more informed picture of British tennis in 2017.
This review still used data including those who played tennis just once a year, a format that boosted Britain's participation numbers to 5.4 million for the year. Of the more regular weekly or monthly players 43% were female.
More relevant LTA stats, particularly in terms of planning for the future, covered court availability. As of 2017, there were 23,000 tennis courts in Britain, of which 31% were in public parks.
These figures are key in making the sport more accessible to all. The number of public park courts is proportional to overall players in Britain, with 33% of people playing on these courts.
Rising Participation in Asia
As well as China being top of the global participation table, India placed third would probably surprise many. Of course, China and India are countries with huge populations, but until recently little tennis tradition.
However, this rise in players is indicative of a trend across the Asian continent, and with 60% of the world's population, Asia is seen as an area with massive opportunities for further growth.
The population size of this continent is important to keep in mind when looking at the initial data.
Although Asia has the most tennis players by region with 37.9% of global participants, this amount is still a fraction of their population. According to the ITF global report, the percentage of regional population which plays tennis is:
Oceania 6.2%
North America 5.65%
Europe 3.21%
South America 0.84%
Asia 0.76%
Central America 0.29%
Africa 0.1%
While Asia accounts for over a third of all tennis participants globally, less than 1% of the region's population plays the sport.
For tennis authorities, this represents huge potential for massive growth given the right investment.
At the other end of the scale is Oceania, with 6.2% of their population engaged in playing tennis. This is a region with a considerably smaller population than Asia.
This is highlighted by the fact that even though they have the highest proportion of tennis players per population, they only constitute 2.8% of tennis players globally.
Interest in tennis in places such as China and India will have been helped by the success of top professional players such as Li Na, Zheng Jie, Sania Mirza, and Leander Paes.
The introduction of the Junior Tennis Initiative (JTI) from the ITF is another factor, looking to introduce more children to the game across the world.
The JTI not only helps provide opportunities to increase participation, it also identifies young tennis talent who can receive assistance with further development of their game.
The initiative has over 123 countries signed up, with a good many in Asia. Countries like Indonesia and Malaysia already report significant increases in children participating in the JTI program.
A further significant step is China recently adopting the JTI. This is seen by the ITF as a potentially key boost as it aims towards its target of adding a further 30 million tennis participants by 2030.
Age No Barrier
One of the prime aims of the ITF is that tennis should be accessible to all, regardless of where you live.
Similarly, tennis can be played at any age, and as well as encouraging the younger generation into the game, people are appreciating the health and social benefits of tennis as they get older.
In the US, 40% of all tennis participants are over 35 years of age, with over 10% 55 years old or more.
As people get older, have more free time, and look to stay fit, tennis is viewed as a good option. In the US this is aided by clubs welcoming seniors, as well as tennis competitions geared for age groups right up to the over 85-year-olds.
The ITF has recently upped the age ante further by introducing an over 90's category to the ITF seniors tour. There are currently 81 registered players on the ITF tour who will be eligible for this new age bracket.
Across all its age categories, the ITF senior tour currently stages over 500 tournaments globally on six continents. The interest and participation of senior tennis look set to continue to grow.
Ranked Tennis Numbers
Data from the ITF global report showed that participation in the professional game is still very much dominated by Europe.
This continent alone accounted for 59.2% of all professionally ranked players, and 44.4% of all junior ranked players. This compared to Asia, whose comparative figures were 15.4% and 20.6%.
It is interesting to note the larger percentage for Asia in junior players, compared to Europe's lower rate.
In total at the time of the report, there were 3,873 professionals in tennis who held a ranking with either the ATP or WTA.
Of these, 1,525 were female players. There were 6,382 players recorded in the junior ranking, and here the number of male and female players was almost exactly the same.
The junior game was represented by 36 countries, 12 more than the ATP and WTA pro tours.
The top five nations for professionally ranked players were:
USA 8.8%
France 5.8%
Italy 5.7%
Russia 5.2%
Germany 4.6%
China was a little further down on the list with 3.0%, compared to their top ranking in overall player participation globally. India has 2.1% of the ranked professionals.
On the junior tour the top five were as follows:
USA 8.6%
Russia 5.8%
Japan 3.4%
France 3.2%
India 3.2%
As can be seen from the junior figures, India is now in the top five in the world for player participation. The US remains consistent across both the pro game and the junior events, while China is not far off with 2.9%
Conclusion
While the top levels of the sport are still dominated by traditional tennis-playing regions such as the US and Europe, participation is increasingly global.
Regions like Asia have huge population centers, and although they may not be represented in large numbers at the top of the sport, they have the most participants globally. Yet this still equates to a fraction of their total populations.
Organizations such as the ITF collect detailed data on tennis participation to help them make considered decisions on investment in facilities, allowing the sport to become more accessible to all.
With the aim to have 120 million participants by 2030, it will be regions such as Asia and Africa which could drive this increase and make the sport truly global.